Firesec 4/60 2K
60 Minutes Fireproof & S2 security tested safe
Weight/Size:
81
(KG)
/
490
(H)
480
(W)
460
(D)
IN STOCK
Order In

-

h

--

mins Get It

Tommorrow
Weekday Services (8am - 6pm)
Next / Named Day

FREE

Mainland UK Before Noon

£25.00
Details
Protects (from fire damage)

Documents (Paper)

Features

Finish

Dark Grey (RAL 7016)

Popular for

Home / Small Business

Warranty

5 Year (Home Use) 2 Year Commercial
Fittings Included
Shelving

1 x Removable Shelf
Dimensions & Weights
External Dimensions (mm)

490 (h) x 480 (w) x 460 (d)

Internal Dimensions (mm)

330 (h) x 330 (w) x 300 (d)

Volume

32 Litres

Weight

81 Kg
* external depth does not include the 20mm lock, handle or hinge projection
Protection
Resistance

Fire & Burglary

Security

S2 Tested

Fire

Fire Tested - 1 hour fire endurance
Construction
Door

30mm steel door

Body

150mm total thickness

Bolt Work

23mm diameter locking bolts, Hardened steel plates protect bolt work & lock against drilling.

Design

Dual protection Home Safe - Fire and Security Tested.

---

Additional security protection – facility to install to floor.

---

180⁰ Door opening maximising internal capacity.

---

Double walled body/door filled with fire resistant material.

---

Approved for storage of controlled drugs with active ingredients under 500g.

Locking

Certified double bitted key lock (inc.2 keys)
Features We Love
Perfect for storing A4 Paper sized documents.

High fire resistance safeguarding items from fire damage

MARKET LEADING - 5 Year Warranty (Home use)

FREE REPLACEMENT SAFE - In the event of damage during a burglary or fire for the lifetime of the warranty
Accreditations

UK Insurance Surveyors Approved

Secured by Design meets Police Approved Standards
Key Lock Details
Key Type

8 lever double bitted

Security Certification

EN 1300 Class A

Make

Mauer
Certifications
Burglary Certificate

EN 14450 S2

Fire Certificate

EN 15659 LFS 60 P Protection (Paper; Documents)

Burglary & Fire

Tested by ECBS
Testing Criteria
Burglary Testing

Safes are tested for anti-burglary protection at certain cash ratings and when succesfull awarded the relevant grade/rating.

There are two anti-burglar test standards in use in Europe.
EN 14450 (for lighter security safes, security cabinets) and EN 1143 (for high security safes).
Choosing a safe with a burglar test certificate from a recognised testing authority ensures you're getting the best security protection for your cash, jewellery and valuables.

EN 14450 LEVEL S2

A range of hand tools available for the attack test, can include cordless drills, short hammers, crowbars, screwdrivers, bolt croppers and punches.

Fire / Documents Testing

The longer the period in minutes, the greater the fire resistance offered.
The critical temperature before paper documents combust is 177°C.
Choosing a safe with a fire test certificate from a recognised testing authority ensures you're getting the best fire protection for your valuables.

EN15659 LFS 60 P Protection (Paper; Documents)

ECB•S (European Certification Board•Security Systems) - EN 15659 LFS Paper fire standards.

TEST PROCEDURE
Stage 1. The cabinet is heated in accordance with the ISO 834 standard time/temperature heating curve. After 60 mins the furnace temperature is almost 1000 °C.

Stage 2. At the end of the heating period, cabinet is removed from the furnace and checks are made to ensure that at no time during the test did the internal temperature of the cabinet exceed 170 °C.
The following options can be selected at checkout.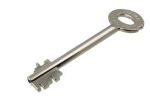 Additional Keys
Two keys are included as standard but additional keys are available if required.
Allow 3 additional days for delivery.
1 Key
:
£48.00
(
£40.00
ex VAT)
2 Keys
:
£96.00
(
£80.00
ex VAT)
Delivery Info (available options – selectable at checkout)
Lightweight Items
Door to door service
Notification
Alert
Email & or text
Delivery Window
(between)
Time Slots
Price

Mainland UK & Northern Ireland

Next Day/Named Drop Off
Yes
Mon - Fri
8am – 6pm
Before Noon

FREE
£25

Scotland remote locations & Islands

Remote locations (incl. Highlands) Southern Ireland & Offshore Islands
POA
Support Centre
We hope you're happy with your purchase, however on occasions issues can arise.
Returns
Unlike the vast majority of our competitors, we offer an unrivalled no quibble returns policy and will refund the full charge, subject to the following conditions:-
You must notify us within 14 days of the delivery date.
Product is returned in 'as new condition' in suitable packaging, with all manuals and accessories.
Refunds will include post and packaging on all products (including our Premium upgraded delivery services, provided the product has not been bolted down).
Products damaged in Transit?
If your item is damaged in transit, you must notify us within 24 hours of receipt so that we can register the damage with the courier and if applicable arrange for a replacement.
Please see our Returns T&C's for further instructions/information.